WHO WE ARE?
SANNOVEX Pharmaceuticals' field force started in 2010 with the arrival of Sannovex branded products from global manufacturers in China, India and later in Europe in 2011. It started with ten (10) medical representatives, increased to twenty five (25) in 2011, forty (40) in 2012, and eighty (80) in the fourth quarter of 2013 under two divisions, Line 1 and Line 2.
Operations
Sannovex field force covers all major provinces and cities all over the Philippines focusing on private and public hospitals as the company currently carries pharmaceutical products in injection form.
In 2018, new divisions will be formed as oral preparations are expected to be approved by the local FDA.    
Business
All Sannovex products are imported and manufactured through product licensing agreements under its own brand. Our product portfolio includes preparations that are classified by the national drug formulary.
Our business is growing at an average rate of 52% annually and puts us at the top 50 pharmaceutical companies in the Philippines.
Partners
Sannovex's partners are global manufacturers that adhere to strict Current Good Manufacturing Practice (CGMP) standard.
We obtained product licensing agreements from top pharmaceutical manufacturers in Asia and Europe that practice highly efficient and cost-effective technologies.
---
Top 50 Companies
From July 2006 to July 2007, Sannovex Pharmaceuticals validated the efficacy, quality and affordability of generic products approved by the Philippines' Bureau of Food and Drugs coming from Asian and some European countries, by way of marketing and distributing these products, and providing doctors and hospitals free medicines for their clinical impression trials. The result was a very convincing affirmation that generic drugs from highly reputable sources, are as effective as the originator drugs, and can help patients save from 25 to 80% compared to the cost of the originator brands.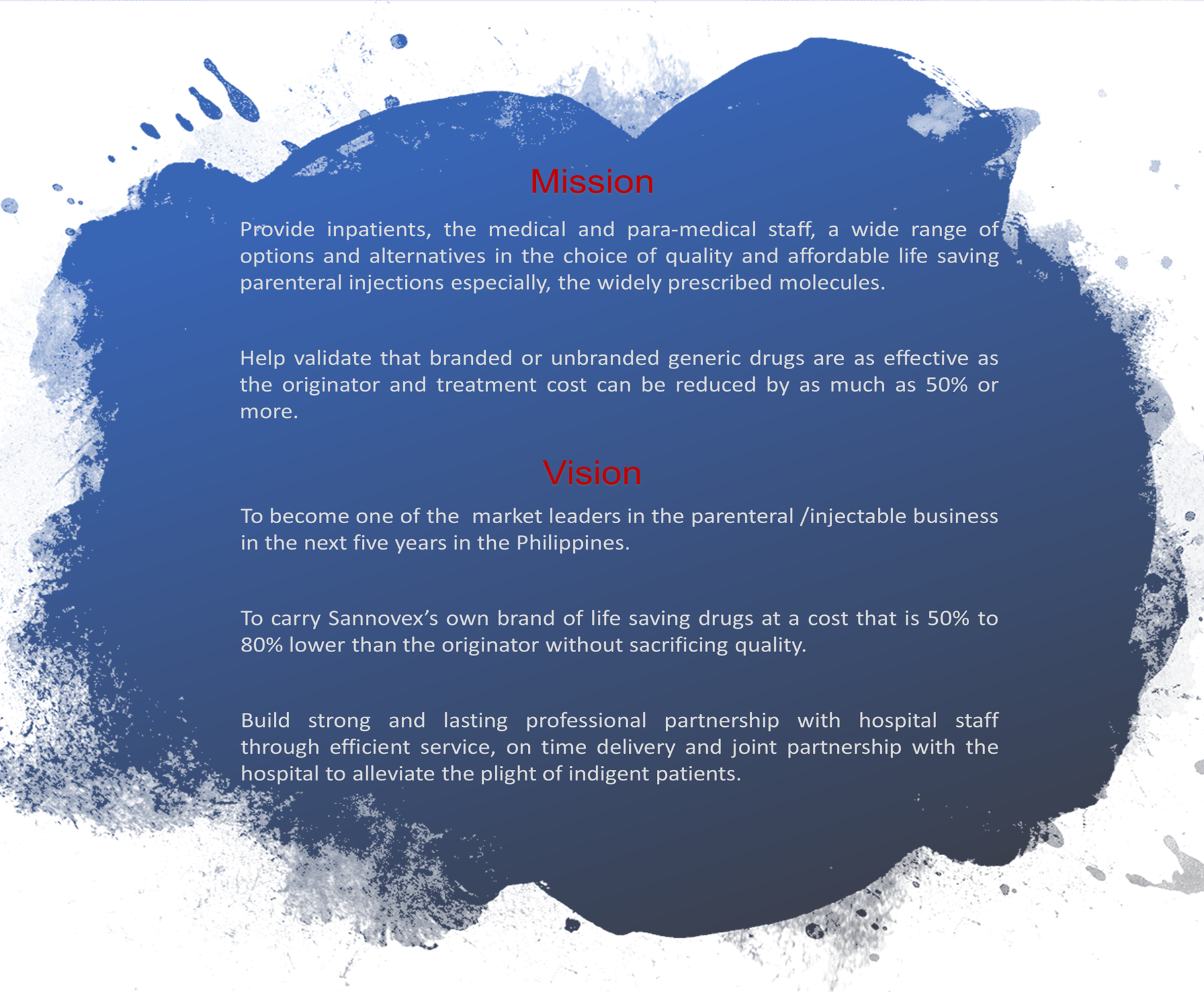 3rd Floor, Jojemar Building,, Maysilo Circle, Boni Avenue, Mandaluyong, 1550 Metro Manila
Tel:+63 2 5351623